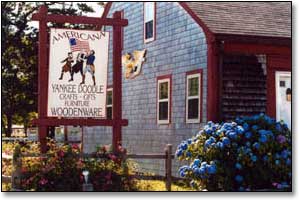 Whether you've grown up with us or are just discovering the Yankee Doodle Shop, you're sure to find something of interest. We offer all types of wonderful country accessories—unfinished, stained, or painted woodenware, glass, and metalware—all at prices that have kept people coming back for nearly 50 years. Come visit us for a quintessential Cape Cod shopping experience! Learn more about our family.



We're Open Year-Round
7 Days a Week June–October
Weekends November–May
Call us for our hours.
(508) 432-0579


A perennial favorite is our wide selection of whirlygigs hand-crafted here in New England. Colorful and fun, these delightful whirlygigs will make a welcome addition to any yard and garden.
View featured products.